11th July 2011
Hatfield House and St Ives Concerts
Catherine Thom is performing at Hatfield House on the 5th, 6th and 7th August, at the 17th Pottery and Ceramics Festival. She is also performing in St Ives on the 3rd of September. These concerts are in aid of the Leach Pottery Mashiko Appeal.
Further details of the concerts can be viewed here and here.
---
8th July 2011
Recording at Cotehele House
Catherine Thom's next CD is being recorded at Cotehele House, Cornwall. This is a selection of English music.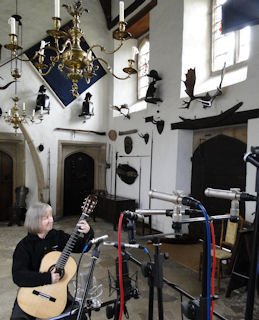 The Great Hall at the National Trust property of Cotehele provides a peaceful venue and even more impressive surroundings! Having microphones juxtaposed with swords and suites of armour gives an almost surreal atmosphere but complimentary to the English music being recorded.
Details of the Tudor house can be viewed here.
---
30th June 2011
'Cherry Blossom' CD release
The Appeal CD for the Leach Pottery Mashiko Appeal has been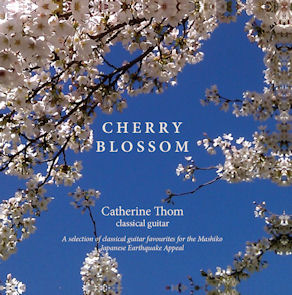 mastered and sent to the disc manufacturers. Thank you to Andy Miles of Super Audio Mastering. Thanks also go to Alice Thomlison for graphic design, and Marcus Durkin supported by Paul Loud for the sound engineering.
Further details of the CD can be viewed here.
---
24th May 2011
Invitation to Graphics Design Show
Catherine Thom was invited to the Graphic Design student's End of Year show at the University of Plymouth, to see how students had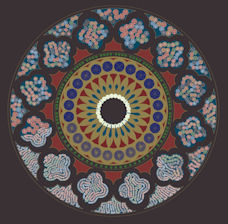 interpreted her Lament (from 'Île Saint-Louis') composition. The students had produced incredibly diverse and imaginative designs in a range of media from book to cartoon style video.
One design (© Dan Taylor 2011) on an A0 poster can be viewed here. Full details of the interpretation can be read in the bottom left hand corner.
---
10th May 2011
Plymouth Concert, Encore on YouTube
One of Catherine Thom's encores can be seen now on YouTube. Thank you to Marcus Durkan and George Woolley for the sound recording and Paul Loud for the video.
The YouTube video of the concert can be viewed here.
---
4th May 2011
Plymouth Concert, Sherwell Center
Director of Music for Peninsula Arts, Simon Ible says of the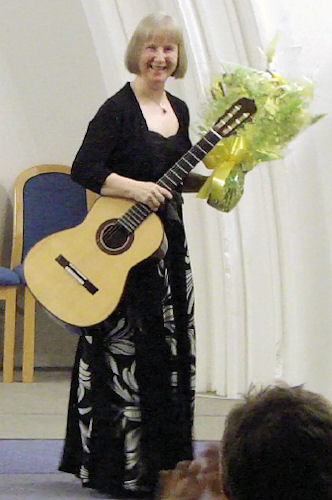 Plymouth concert: 'Catherine's choice of programme succeeded in being a superb introduction to the marvels and breadth of the classical guitar repertoire and indeed the great range and capabilities of the instrument...... Catherine's entrancing performance was complimented by her illuminating introductions...... The audience were captivated by the epic D minor Chaconne by Bach with its skillfully controlled long and intense crescendo that expressed a deep passion.....'
---
20th April 2011
Support for Japanese Earthquake
Catherine Thom has been asked by the Leach Pottery and St Ives Ceramics to raise funds for the Mashiko Pottery Appeal. Catherine has agreed to produce an Appeal CD and play a number of concerts to support this undertaking.
Further details of the Appeal can be viewed here.
---
13th March 2011
Plymouth Concert, Sherwell Center
On the 30th of April Catherine Thom will be performing live in concert at the Sherwell Center located on the University of Plymouth campus. Tickets are available to buy either directly or through email, from Peninsula Arts:
Peninsula Arts - www.peninsula-arts.co.uk
---
11th March 2011
Studio recording
Catherine Thom has been recording in the Scott Studio. She was photographed whilst recording and the pictures can be viewed here.
---
23rd February 2011
Plymouth University students create graphic score
Catherine has been working with the students who study 'Graphic Design with Typography' at the University of Plymouth. The students have had a brief set to create a graphic score based on one of three pieces of music. One of these three is Catherine's 'Lament', the second movement from 'Île Saint-Louis ' . Catherine has been in University talking to the students explaining the piece of music and answering any questions the students may have.
---
18th February 2011
New publications now available by Catherine Thom: Classical Guitar Workbooks: Level 1 and level 2
There are now two new books available to be purchased. Both books have music composed by Catherine Thom and are aimed to teach and encourage others to play classical guitar. She is currently in the process of creating a DVD which will have video tutorials to go along side the books. Click here to go to the shop page where you can find out more.
---
12th February 2011
Launch of new web site
Today sees the launch of Catherine Thom's new web site. Many thanks go to Baz Forrister for this development.
---